| | |
| --- | --- |
| | |
Finally after months and months of delays, problems and more delays Im happy to post this.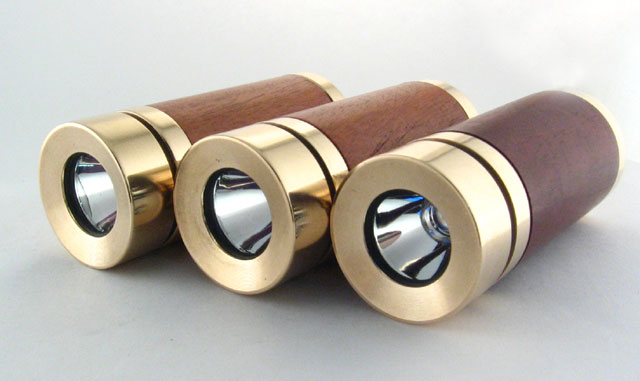 The first skinnable flashlight in the world
The flashlight you are bidding on is part of a limited run of 40 units, less than 15 units are still available for sale.
UCL anti reflex protecting glass lens
Luxeon 3w bin
TW0J
emitter
One Quebracho Wood Skin and one Plastic semitransparent Skin
Material is phosphorous brass
No CR123 battery included.
Dimensions : diameter 26mm (1.02") x 62mm (2.45")
The unit weight is 110grams
Output Regulation: Full Constant current regulation.
Li-Ion Rechargeables over discharge protection: No
Technology: SMT Components
The price is $180 + $10 shipping worldwide via registered mail
(A few still available as of 07/sep/08)
Creator and flashlight history
I started with the flashlight creation hobbie on feb/2004, white leds catched my attention when I first saw them as a perfect replacement for incandescent light bulbs.
Browsing the web, I found the
CPF
, and there I found the fountain of knowledge I was looking for. I learned from skilled persons every aspect of a led based flashlight and at some point, that knowledge triggered my other hobbies Wood/Metal machining and electronics.
Neoca Wood concept is not to create a flashlight for the toolbox, but a flashlight as an functional art item, combining the beauty of the exotic quebracho wood, brass and state of the art electronic parts.
But another concept was introduced at the same time, a skinnable flashligh, by changing the removable sleeve of the unit, the user could set free his/her imagination and create infinite new looks for the flashlight appearance.
One very nice feature of the Quebracho wood is that it tans over time, as you can see in the second picture below.
The Neoca Wood is meant to be used as much as it is meant to be displayed. It is the epitome of a gentleman's light, and has a timeless executive look and feel.